---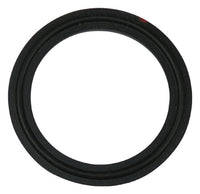 Tri-clamp Seals and Gaskets 
Made of:
Standard Nitrile also known as Buna-N outperforms most other elastomers due to high tensile strength, as well as excellent abrasion, tear, and compression set resistance. Buna-N has excellent resistance to petroleum-based oils and fuels, water and alcohols. Buna-N also has good resistance to acids and bases, except those with a strong oxidizing effect. Avoid highly polar solvents like Acetone, etc and direct exposure to ozone and sunlight. Temperature Range is -55° to 120°C (65° to 248°F).
Available in an assortment of other colors, call for pricing and availability, minimums apply.
These gaskets are manufactured to the highest standards in a variety of sizes, materials and styles to suit all your needs. They are certified to Title 21CFR177.1550 & .2600 and USDA & 3A Sanitary Standards. The shelf life of rubber gaskets/O-rings is the period from curing to the date it is put into use in an application. Shelf life is retained as long as it is stored in a 65° to 85° clean, dry warehouse in the original package away from sunlight and electric motors.
Shelf Life:
Buna-N - 10 Years
EPDM - 10 Years
Silicone - 5 Years
FKM (Viton®) - 10 Years
PTFE (Teflon®) - 20 Years
Includes:1 gasket