---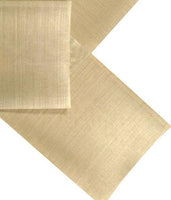 3 Pack 4"x6"
Rosin Tech Stainless Steel Screen. Soft, supple, and indestructable. Keeps you final product free of unwanted debris.

Fabric, silks, and plastic screens all rapidly degrade under heat and pressure.

Polluting your finshed product is a certainty using anything other than stainless steel screen

Steel screen will never degrade or pollute your medical grade product

Washable and reusable. You will recieve a 50 Micron 3pk 4" X 6" T-316 medical grade stainless steel screen.